The Net's Best Prices on Bifocal Products from Robert's Eyewear
"Bifocals.com is your one stop site for all things bifocal. Find the lowest prices and buy bifocals at leading retailers including Roberts Eyewear, DiscountContactLenses.com, and more. If you're looking for low prices our discounts on leading brands like Dewalt, Acuvue, Elvex, and others means Bifocals.com is your last destination for bifocal products including bifocal contact lenses, bifocal eyeglasses, and bifocal safety glasses. With over 30 years of experience, Bifocals.com can guarantee you'll receive the product you need at the price you want. Choose a category to start shopping now."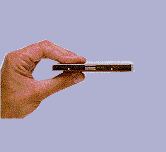 SlimFold Reading Glasses
The very best in reading glasses, made in Japan by Kanda of Japan, SlimFold is superb Japanese ingenuity at its very best, SlimFold Reading Glasses are not the cheap reading glasses sold in over the counter drug stores or cheap reading glasses websites. SlimFold frame incorporates a four-position adjustable bridge, providing you with truly a custom fit. Your SlimFold folds effortlessly into a handsome brushed aluminum case.